Every week Katya comes up with a new and creative image for each issue. I am in love with the colours in this illustration and of course, I love that Frank is involved. You can find Katya on IG @honestlygreen
Happy Sunday!
Hope everyone had a good week. I've had a busy work week but had a really fun morning on Tuesday, where I got to do a Zoom cook along with some of my colleagues and also learnt some Spanish, led by my colleague Emma. Doing a cook along made me want to do more, so I am considering live cook alongs on Instagram. Would anyone be up for that? Simple but flavourful dishes that don't take much time. I am also desperate to get back to running Supper Clubs and doing pop-ups. Obviously social distancing and the impending second lockdown are a big issue but if anyone knows of any suitable spaces, shout!
But anyway, this week is all about Caraway seeds. I'll be honest, I have a jar of Caraway seeds in my drawer BUT I haven't touched it in a very long time. The only obvious thing that came to mind when I started working on this issue was bread and baking. So I went on Instagram and asked my followers how do they use caraway. And let me tell you, caraway really is a universal, versatile spice used across many cultures and continents. I had suggestions for Lebanese desserts, Baltic dishes, Nordic bakes, Indian dishes, German roasts, pickling and so much more. It was really eye-opening to see how one spice is adapted by different cultures in so many different ways.
ABOUT CARAWAY SEEDS
What is Caraway? Caraway, also known as meridian fennel and Persian cumin, is a biennial plant in the family Apiaceae, native to western Asia, Europe, and North Africa. The plant is similar in appearance to other members of the carrot family, with finely divided, feathery leaves with thread-like divisions, growing on 20–30 cm stems. Caraway is often mistaken for cumin. Caraway doesn't have the hotness that cumin offers, and is smaller in size.
What does it taste like? Caraway is slightly bitter, earthy and is reminiscent of liquorice, coriander, anise and fennel. (So by definition, it is not a favourite in our house).
It's mostly known for being used in German, Austrian and Indian cuisines. Caraway of the Netherlands has a reputation for being of the top quality, so if you're visiting, make sure to bring a bag of Caraway back. The Dutch variety is famous for its uniform shape, consistent colour and oil content. The Netherlands is the biggest grower of Caraway, but Egypt is a major additional source. Their seeds are milder in flavour, more resemblant of rye.
Caraway's been cultivated in Europe since the Middle Ages. It's believed that Caraway is the spice used longer than any other on the European continent.
Caraway is not just used in food, but also medicinal industries. There are several ways of using caraway - whole seed, powder, essential oil and fatty oil. The essential oil is used to flavour sweets, mouthwash, toothpaste, soap and perfumes. You can also use young shoots in the salads and boil the roots.
During the 17th century, sugar-coated caraway seeds were served at the end of the meal to aid digestion.
Caraway is often planted in the garden to attract pest insects (flies and wasps) and to distract them from more valuable plants in the garden. As it's a biennial plant, it will complete its life cycle in two years.
In folkrole, it's believed that caraway can prevent any object from being stolen. It's also used to prevent fowl and pigeons from straying (in case if anyone fancied getting a new pet?)
QUICK SUGGESTIONS FOR USE:
To enhance the flavour of Caraway, lightly toast it. It's best to add caraway during the last 15 minutes of the cooking process for best flavour.
Savoury
So many people swear by adding caraway to their loaves of bread, focaccias, buns and other yeasty goods. This Rye Bread with Caraway looks like a great place to start.

For someone who loves a pickle, I completely forgot about caraway being the king of pickling spices. Here's a recipe for quick (24 hours) pickled cucumber with caraway.

And here's another one for some pickled carrots, useful if you have a glut of carrots.

You can't talk about caraway and not mention Sauerkraut. You can either make your own and add caraway seeds or if you're using Sauerkraut for cooking, or heating it up then you can add some caraway seeds to add the extra flavour dimension.

Going back to carrots, carrot tops to be precise… why not make a carrot top pesto and add some caraway seeds? I used this Riverford recipe as a base.

Someone suggested roasted carrots (can you see a theme forming?) and I instantly remembered about my favourite Sabrina Ghayour's Honey Roasted Carrots.

I am excited about this Caraway and Walnut dressing.

And this Caraway and Cumin Couscous Salad.

Caraway pairs fabulously with pork and goose, so next time you're roasting or stewing make sure to add some caraway.

Caraway seeds are used a lot in Indian cooking, they're often used to prevent bloating so are added to dishes that have potatoes and chickpeas. This Spiced Lamb Curry sounds absolutely heavenly.

Caraway works well cheeses, and I've been thinking non-stop about Jāņu Siers, a traditional Latvian cheese often eaten during Summer Solstice Celebration. It's impossible to buy in the U.K but I found this step by step recipe, which I am definitely going to attempt.

Caraway works fabulously with tomatoes so next time you're making a tomato-based sauce, try adding a pinch of caraway.

As it's often added to potatoes, try adding it your potato salad or your next batch of roasties.
Sweet
Lebanese Meghli, recommended to me on Instagram by @hungapen, who said she uses a lot more caraway as that's supposed to be the main flavour profile in the dessert.

Caraway pairs beautifully with citrus fruit, and this Lemon and Caraway Roulade sounds delicious.
Drinks
I didn't find any uses for Caraway in drinks (please let me know if you're onto a secret and I'll add them!) but I did find this article about Kummel Liqueur, a popular drink in Germany and Eastern European.
Even more recipes to get cooking with Caraway:
RECIPE OF THE WEEK
Shahi Jeera Aloo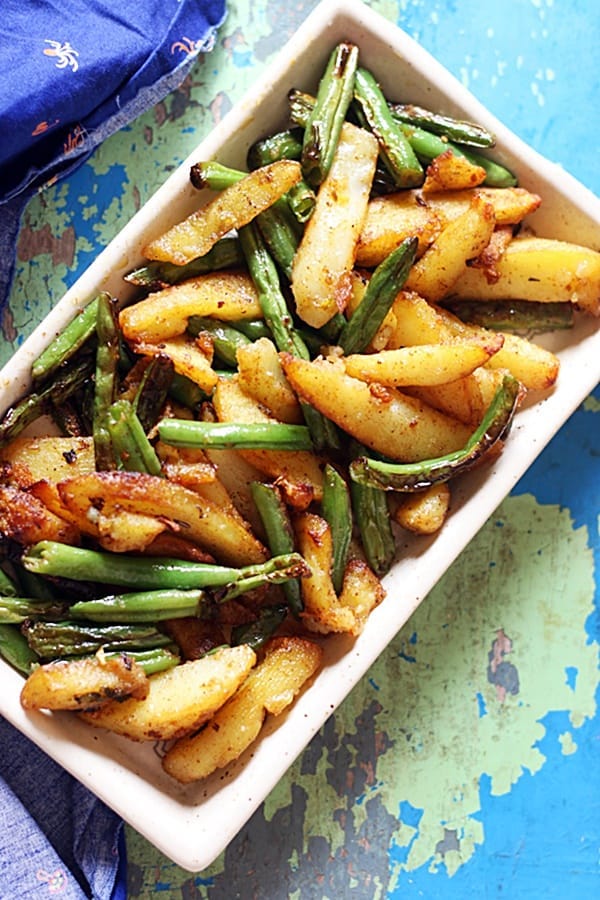 This week's recipe is provided by Sohini (remember Sohini who helped me with Ghee issue?). She was excited to share this simple but flavourful dish which is often her go-to during the week. Sohini suggests to have it in a wrap (double carbing - yes!) with spiced yoghurt or mayo, cucumber and fresh coriander.
Serves 2-3
Ingredients
2 tbsp ghee

1 tsp caraway seeds

1/2 tsp coriander seeds

1 tsp chopped garlic

1 tsp chilli flakes or chilli powder

2 large potatoes (skin on), cut into french fry shapes

100g sliced mangetout/green beans/sugar snap peas/courgettes - anything green or you can completely skip the greens

1 tsp honey

1tsp salt
Method
Add ghee to a large heavy-bottomed pan, add the caraway, coriander, garlic and chilli. Fry for a couple of minutes.

Add the potatoes and the mangetout, followed by honey and salt. Fry until the potatoes are cooked, and become charred and brown.

Serve in a wrap!
WHERE TO BUY
Most major supermarkets stock caraway seeds, so you should have no trouble sourcing some. As always, Sous Chef is a great place to go for all your kitchen supplies ( I promise, I am not paid to say this).
Who to follow: Sohini @smokeandlime (very versed with Caraway and other spices)
What to watch: How to grow Caraway in raised beds
Cookbook to explore: Smorgasbord
Well, I am definitely a lot more equipped now and will be using caraway in my cooking more often. Going into the colder season I can sense some German stews and a lot of potato dishes with caraway. I hope you enjoyed this issue. Massive thank you to everyone who reached out on Instagram and shared their favourite ways of cooking with Caraway.
Anya xx
Coming up next week: MSG
If you enjoyed this issue of Appetite, you can buy me a Ko-Fi to help fuel the next issue